Product Care
We add Bar Keepers Friend Cleanser and Polish to all our cookware sets, Bar Keepers Friend works excellent on Eternal Stainless Steel Cookware. It makes your cookware look like new, once you try it, you will always use it.
WATERLESS COOKWARE
Your Source for Cookware, Stainless Steel Cookware Sets, & Water Filters
Visit Eternal Stainless Steel for the best in waterless cookware! Our cookware sets are available in five ply style and full body style, and includes a whistle knob.
The set cooks without water or oil, so you can maintain the nutrients in your food! For your convenience, a lifetime guarantee is included.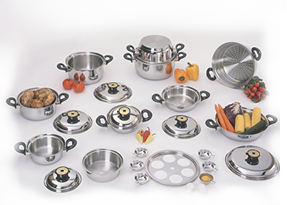 In addition to cookware sets, our business features food cutters and water filters. For more information about us, call today. We serve all states nationwide.
Eternal Stainless Steel has been in business for 76 years. Count on our family-owned business for quality products and personalized services. We feature high-quality cookware that lasts a lifetime. For additional information, contact us.